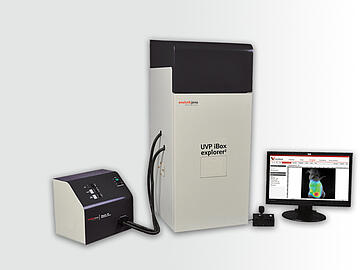 UVP iBox Explorer² Imaging Microscope
Macro to Micro Fluorescent In Vivo Small Animal Imaging
Easy transition from the macroscopic to the microscope scale

Visualize micro injection of cancer cells in vivo

Ability to image organs and cells subcutaneously and within the body cavity of living mice

Optical configurations are parcentered and parfocal
Product details
Now researchers can take detection of fluorescent markers in small animals to a new level with the iBox Explorer² Imaging Microscope! The iBox Explorer² is unique in its ability to view macro to micro in the whole animal to individual cell, subcutaneously and within the body cavity of mice. The upright optics provide an ultra long working distance and high numerical aperture (NA) for detailed fluorescent in vivo imaging.
The UVP iBox Explorer² easily detects GFP/RFP and other fluorescent markers in small animals. The capabilities of this in vivo small animal imaging system enables research studies in whole animal down to individual cells.
Focusing on Fluorescent Cancer Cell Detection
In research performed, HT1080 fluorescent cancer cells were injected into the epigastrica cranialis. Immediately after the injection, the fluorescence indicates the cells escaped around the injection sites. In the zoomed in views, a cluster of cancer cells can be observed in the blood stream.
System Capabilities
Capture images with a superior cooled CCD camera and optics that are optimized for VIS - NIR imaging
View the whole animal to the single cell level via the motorized optics
Seamlessly navigate the image through all magnification ranges from 0.17x to 16.5x
Control eLITE excitation filters and light intensity via the software interface
Generate continuous excitation spectrum with the configurable filters for fluorescence microscopy
Slide-out warming plate maintains uniform temperature
Create optimum imaging conditions with the light tight darkroom
See quick sample inspection with unique viewing window
Simply adjust the position of the motorized X, Y, Z stage with the joystick
Technical Data
Specifications/features

UVP iBox® Explorer²™ Imaging Microscope

Darkroom Specifications
Emission Filters
Four-position interchangeable rack:

515nm Longpass, GFP, RFP, Neutral Density

Additional wavelength filters available

Controls
Automated, software controlled
Travel
Precision motorized X, Y, Z
Resolution
X=10μm, Y=10μm, Z=1μm
Position/Focus
Controlled by joystick/software
Warming Plate
37°C, user adjustable
Darkroom Dimensions
17.5"W x 19.5"D x 41"H (44.5 x 49.5 x 104cm)
Light Sources
150 watt Xenon
Fiber Optic
Coaxial and epi illumination with light heads mounted to the darkroom
Excitation Filters
Eight position wheel includes filters - GFP, RFP (others available)
Controls
Via software
eLITE Dimensions
12.5 x 13.5 x 10 in. (31.8 x 34.3 x 25.4cm)
eLITE Dimensions
12.5 x 13.5 x 10 in. (31.8 x 34.3 x 25.4cm)
Camera
OptiChemi 695

Monochrome

16 bit

2184 x 1472 pixel Resolution

3.2, extendable to 9.6 Megapixels

Cooling: -60°C from ambient

Peak QE: 88% (quantum efficiency)

Software



Interface

Camera, objectives, darkroom, eLITE

Tools

Analysis

Extensive functions including area density measurements, volume measurements and tumor sizing

Documentation

Create reports and export data

Compliance

UVP's software requires Microsoft Windows 7,8, or 10 (32-bit or 64-bit).
Magnification and Imaging Area

Optical Magnification:
0.17x
0.25x
0.5x
1.66x
2.5x
4.5x
7.5x
8.8x
16.5x
FOV Observation Range:
90x90mm
60x60mm
30x30mm
9x9mm
6x6mm
3.3x3.3mm
2x2mm
1.7x1.7mm
0.9x0.9mm
Order Information
| | |
| --- | --- |
| Order number | Description |
| 97-0595-01 | UVP iBox Explorer2 with Optichemi 695 Camera - 115V |
| 97-0595-02 | UVP iBox Explorer2 with Optichemi 695 Camera - 220V |
The newsletter of Analytik Jena frequently keeps you posted about:
News
Trends and developments
Events
Contact us
We are happy to help you and will contact you as quickly as possible.