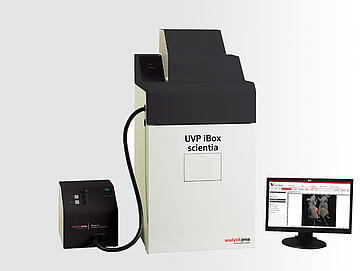 UVP iBox Scientia
Small Animal Imaging System
Selection of high resolution, high sensitivity CCD cameras for in vivo imaging
Motorized optics for setting the aperture, zoom and focus
Unique viewing window enables quick sample inspection
Matched emission/excitation filter sets specifically for small animal imaging
Automated control of the five-position emission filter array to allow addition of emissions for visible, IR and UV to meet all spectral requirements
Product details
UVP iBox Scientia Small Animal Imaging System is designed to automate your in vivo small animal imaging research. System enables non-invasive detection of fluorescent and bioluminescent reporters in mice. The one-touch, pre-set or user-defined controls are easy to use for accurate, repeatable imaging.
Darkroom
Light tight darkroom creates optimum imaging conditions
Unique viewing window is UV blocking for quick sample inspection
Automated control of the five-position emission filter array
Power lift is adjustable to any setting in a ten inch travel range (manual lift also available); automated calibrating home position synchronizes the power lift at start-up
Warming Plate
Warming Plate provides a platform for maintaining a regulated temperature of small animals to prevent hypothermia. The stable temperature enables consistent day-to-day results.
UVP eLITE MultiSpectral Source
External power supply houses the eight position filter wheel
Automated design controls the filter wheel and six intensity positions
Fiber optic light source connects through the darkroom port for epi or transillumination
Matched excitation/emission green fluorescent protein (GFP) and red fluorescent protein (RFP) excitation filter are included; other filter sets available
Software Interface
Software automates your research for easy, yet accurate and repeatable results
Controls the eLITE, darkroom's epi and transillumination UV and white light, emission filter selection and system power
Allows selection of user-defined or default settings
Set templates and user preferences for recurring experiments
Technical Data
Specifications/features
UVP iBox Scientia
Camera/Lens
BioCam 900

1024 x 1024
1.0 Megapixels
>90% (Visible)
25mm f/0.95 or 50mm f/1.2
USB 2.0 PC Connection

OptiChemi 615

2750 x 2200
6.05 Megapixels
25mm f/0.95
USB 2.0 PC Connection
Real time, live preview of images

Darkroom features

Light tight
Wide access door with UV safety shutoff
Gel viewing window
Sliding tray for optional transilluminator
Epi white and UV illumination (365nn and 480nm)

Stage

Temperature: 33°C - 40°C, preset to 37°C at factory
Temperature over limit switch: Prevents unit from going above 41°C
Accuracy: 1°C of readout temperature
Variance: Not to exceed 2°C over marked area
Display: LCD, digital, non-illuminating
Physical Dimensions (HxWxD): 3.5" x 11.5" x 8" (8.89 x 29.21 x 20.32cm)

Emission Filters-five Positions

Green Fluorescent Protein (GFP)
Red Fluorescent Protein (RFP)

UVP eLITE MultiSpectral Light Source

Power source housing external to darkroom
150 watt light source
Fiber optic bundles connect to either epi or transillumination light sources
Eight excitation filter positions - GFP and RFP included (additional filters available)
Manual or software controlled

Software

Interface for automated controls
VisionWorks Acquisition and Analysis Software
AJ's software requires Microsoft Windows 7, 8, or 10 (32-bit or 64-bit) operating systems
Order Information
Order number
Description
115V
Name
Camera
Lens
97-0615-01
UVP iBox Scientia 900
Bioluminescence 900 Camera
25mm f/0.95 Motorized Lens
97-0613-01
UVP iBox Scientia 900
Bioluminescence 900 Camera
50mm f/1.2 Motorized Lens
97-0728-01
UVP iBox Scientia 615
OptiChemi 695 Camera
25mm f/0.95 Motorized Lens
*Anesthesia Kit and Computer sold separately
The newsletter of Analytik Jena frequently keeps you posted about:
News
Trends and developments
Events
Contact us
We are happy to help you and will contact you as quickly as possible.