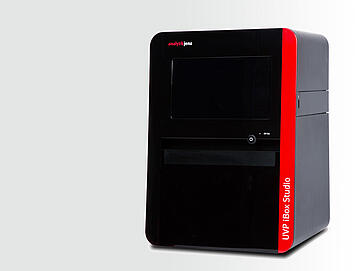 UVP iBox Studio
Affordable small animal imaging system
Two high performance cooled camera options

Illumination sources – RGBW LEDs and NIR lasers

Included warming plate for up to 3 mice on ergonomic slide out tray

VisionWorks software for one-touch workflows

Integrated 13.3" touch screen computer

Small, compact footprint maximizes the use of laboratory bench space
Product details
Optimized in vivo fluorescence imaging
The UVP iBox Studio touch is sophistication and ease of use in one system for high resolution small animal fluorescence imaging. From in depth in vivo studies to quick screening, researchers can use this compact yet powerful imaging system to perform their choice of in vivo fluorescence application. Camera and light source options provide maximum flexibiliy in system configuration.
Versatility of a wide spectrum:
The UVP iBox Studio is versatile and can support imaging of any probe in the visible to near infrared (NIR) range (400 to 900nm). NIR imaging minimizes skin autofluorescence (~650nm) and allows 3x to 8x deeper penetration. The wide spectrum also offers more options for multiplex labeling. This capability enables visualization of tissue/tissue interaction, enhanced signal to background ratio, and detection of multiple fluorescent proteins or labels.
High performance cameras and software:
Optimize your application by choosing between two high performance cooled camera options. Each camera is configured with the UVP iBox Studio to enable rapid in vivo imaging and repeat observation with minimal disturbance to the subject. The included VisionWorks Software tools provide users with the freedom to apply image enhancement and analysis features when needed. They create uncompromised raw data and preserve this true data, promising the highest quantitative value. The enhancement and analysis features offered include many powerful tools, such as: colony counting, area density, noise reduction, background subtraction, inversion, pseudocolor, compositing, and more.
Optional anesthesia system:
Several components are combined in the optional UVP anesthesia system in order to regulate and administer a combination of oxygen and isoflurane/sevoflurane gas to the animal. The initial anesthesia is performed in the induction chamber. The animal is then moved to the warming plate inside the iBox darkroom and connected to a nose cone. The warming plate generates uniform temperature conditions which maintain a safe body temperature of the animal during the imaging process. Multiple-port manifold allows up to three at one time. A pull-out tray in the darkroom enables hassle-free placement of mice in the darkroom chamber. A low profile breathing device on the plate connects to patented valves. The system's non-rebreathing technology prevents backflow of gases into the darkroom and ensures user safety.
Technical Data
Specifications/features
UVP iBox Studio
Light Sources

Overhead: white, red, green and blue LEDs included
NIR and UVP eLITE optional

Filter Wheen
Five-position automated filter wheel
Darkroom Features

13.3" integrated, multi-touch computer
Fold-down door
Warming plate for temperature regulation (up to 3 mice)
USB port (right panel of unit)
6 additional USB ports (back side of unit)
Access port for optional UVP eLITE Light Source
Access port for gaseous anesthesia system

Accessories included

GFP and RFP emission filters
VisionWorks Software for image capture, enhancement and analysis (unlimited licenses)
Flash drive with VisionWorks Software (license free)
Empty flash drive for data and image storage
Keyboard and mouse (touch screen systems only)

Dimensions: L x W x H
41 x 46 x 61 cm (16 x 18 x 24 inch)
Wireless network capability
Wireless network capable, Wi-Fi, accessory for wired-to-ethernet connection available
Order Information
Order number
Description
115 V
230 V
Name
849-97-0932-01
849-97-0932-02
UVP iBox Studio touch, 815
849-97-0932-03
849-97-0932-04
UVP iBox Studio touch, NIR, 815
849-97-0933-01
849-97-0933-02
UVP iBox Studio touch, 615
849-97-0933-03
849-97-0933-04
UVP iBox Studio touch, NIR, 615
Order number
Description
115 V
230 V
Accessories
849-00300-4
849-00300-2
UVP eLITE Xenon, Kit with epi light fibers
849-00301-4
849-00301-2
UVP eLITE Xenon, Kit with epi light fibers
849-00302-4
849-00302-2
UVP eLITE manual, Kit with epi light fibers
98-0098-01
Anesthesia Kit
849-98-0123-01
Overhead NIR Module 660nm, 787nm
The newsletter of Analytik Jena frequently keeps you posted about:
News
Trends and developments
Events
Contact us
We are happy to help you and will contact you as quickly as possible.