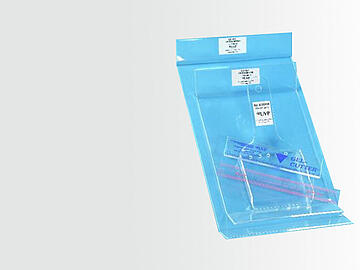 Gel Tools
Analytik Jena's Gel Tools are useful for researchers working with gels on transilluminators.
Product Details
The Gel-Cutter's edge allows for cutting and removal of gel material. The Gel-Scooper, made of strong acrylic with a beveled edge, is designed for easy transfer of gels from electrophoresis equipment to viewing equipment. Gel-Trays, made of UV transmitting Plexiglas, can be used for moving gels to the transilluminator. The tray protects the transilluminator's filter surface from scratches. Side panels on the Gel-Tray, angled at a 45o bend, extend upward from the tray surface for easy handling. The Gel-Ruler has centimeter markings that fluoresce under 365 nm and 302 nm UV wavelengths providing reference marks for DNA analysis.
Order Information
Part Numbers
Part Number
Model
Dimensions
85-0002-01
Gel-Cutter
20 cm L
85-0003-01
Gel-Ruler
25 cm L
85-0006-01
Gel-Scooper
5"W x 12"L (12.7 x 30.5 mm)
85-0007-01
Gel-Tray (small)
11.5"W x 9"D (29 x 22.9 mm)
85-0005-01
Gel-Tray (large)
16.5"W x 10.5"D (42 x 26.7 mm)
Contact us
We are happy to help you and will contact you as quickly as possible.