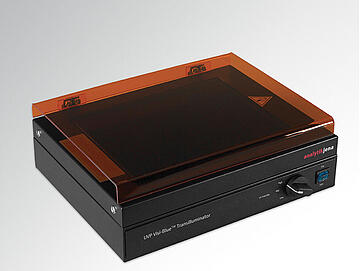 UVP UV, White & Blue Light Transilluminators
Filter sizes from 15 x 15 cm up to 25 x 26 cm or 20 x 40 cm

Exceptionally uniform illumination

High-grade filter glass for low background

Wide choice of standard and high-performance models
Product Details
UV transilluminators for UV fluorescent stains
UVP UV Transilluminators feature a uniform and bright illumination. The exclusive use of high-grade filter glass provides excellent documentation results with a low background signal. Exceptional illumination uniformity allows for the reliable quantification of electrophoretically separated fluorescent samples.

The UVP Transilluminators are equipped with an ultraviolet blocking cover to shield the user from UV radiation. The base is painted with a high-quality, scratch-resistant powder coat. Models include a stainless steel top assembly or powder coat paint.

UVP Benchtop Transilluminators
All UVP Benchtop Transilluminators are compact and lightweight. Benchtop models are available in four different variations of UV illumination: an economical Single UV with optional variable intensity (302 nm), 2UV (302 and 365 nm or 254 and 365 nm) or 3UV (254, 302, and 365 nm). Multiple filter sizes are available and may be seen below under Order Information.

The variable intensity models feature:
High setting for UV excitation of fluorophores on gels for routine photography. Also excites gels with low sample concentration.
Medium intensity for viewing and quick singleband excision.
Low setting for positioning and preparation of the gel, excising multiple bands, and focusing for photography.
Transilluminators with exceptionally uniform illumination
UVP FirstLight Transilluminators feature a unique, highly uniform 302 nm UV excitation source for quantitative fluorescent imaging in a wide range of applications.
Produces < 5% coefficient of variance (CV) across the full filter area
Exceptionally uniform, edge-to-edge illumination
Accurate gel to gel comparison
Uniformity ensures consistent illumination over the imaging surface, resulting in high quality images
Wide range of genomic and proteomic applications, e.g. DNA and protein gel documentation and analysis
The transilluminator achieves accurate and reproducible RNA, DNA and protein results. The illuminator emits 302 nm UV excitation and combined with a patented phosphor coating configuration generates exceptionally uniform UV illumination over each band and lane. Multiple gels may be placed on the surface with assurance of uniformity for each gel.
High performance UV transilluminators
All high performance UVP Transilluminator PLUS models include the exclusive 25-watt ultraviolet tubes providing brilliant UV illumination.
Deliver high UV output and intensity, no light flicker, fast lamp start-up and reduced electrical consumption
Stainless steel frame enables easy cleaning
The back-lit UV illumination is further enhanced with long-life filter and uniformity screen
UV blocking cover, included with each transilluminator, is adjustable for access to the filter surface
Blue light transilluminators for fluorescent stains
UVP Visi-Blue Transilluminators are an alternative to UV transilluminators as there is no risk of sample damage during illumination. This is important when samples are processed further after gel documentation. User safety when working with blue light transilluminators is guaranteed as there is no risk of UV exposure. Blue light excitation is applicable for fluorescent dyes for nucleic acid or protein stains with excitation wavelengths around 470 nm. Example compatible stains include: SYBR Green, GelGreen, SYBR Safe, SYBR Gold or SYPRO Ruby and GFP stains.

The UVP Visi-Blue Transilluminator is available as a compact 8-watt model or a larger 25-watt model. The amber protective cover blocks blue light transmission, allowing visualization of most samples above 500 nm.
UV-to-blue converter plates
Analytik Jena offers an alternative to a blue light transilluminator in the form of a UVP Visi-Blue Converter Plate which can be placed on top of a UV transilluminator to convert UV light to blue light. Three different sizes of the Visi-Blue converter plate are available. An amber camera filter must be used in order to take images with the UVP Visi-Blue Converter Plate.

White/UV transilluminators
UVP UV/White Light Transilluminators feature dual filters, each 20 cm x 20 cm. These dual filters allow for users choice of UV wavelength (either 302 or 365 nm, or combination 302/365 nm) and white light illumination. The white light illumination can be used for the documentation of all visible colored samples such as silver or Coomassie Blue stained gels as well as for radiographs.

White light transilluminators
The UVP Visi-White Transilluminators are perfect when documentation of only visible colored samples without the need for any UV light is needed. The UVP Visi-White Transilluminator is a white light transilluminator which provides highly uniform illumination for bright sample images.
UV to white light converter plates
Alternatively to the use of a white light transiluminator a UVP Visi-White Converter Plate may be placed on top of a UV transilluminator. The converter plate converts the UV light to visible light and thus economically extends the application scope of all UV transilluminator models to the visualization of colored dyes.
Technical Data
| Features | Benefit |
| --- | --- |
| Compact size with small footprint | Saves bench space |
| Stainless steel filter frame | Robust and easy to clean for daily routine |
| Freely adjustable UV protection shield | User UV protection during handling the gel |
| Lamp control with electronic high-frequency operating system | Flicker-free illumination and extended lamp durability |
| Quiet, temperature controlled ventilation | Samples are protected from heating |
For compatibility of transilluminators with Analytik Jena legacy imaging systems please check this table:

GelStudio SA2,
ChemStudio,
ChemStudio SA2,
ChemStudio PLUS

Dimensions
(height incl.
protection shield)
H x W x D, cm

Transilluminator version

UVP Transilluminator
with 8 W tubes

Yes

13.7 x 35.6 x 27.9

UVP FirstLight® Transilluminator

Yes

13.7 x 35.6 x 27.9

UVP Visi-White Transilluminator

Yes

10.8 x 33.7 x 24.1

UVP Visi-Blue Transilluminator

Yes

13.7 x 35.6 x 27.9

UVP UV/White Transilluminator

No

14.3 x 48.6 x 33.7

UVP Transilluminator high performance with
25 W tubes

No

14.3 x 48.6 x 33.7
Contact us
We are happy to help you and will contact you as quickly as possible.