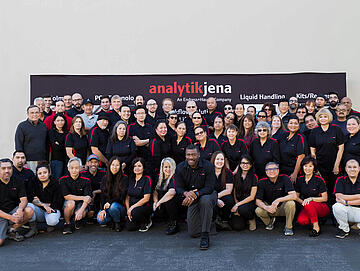 About Us
Analytik Jena US, formerly UVP, designs and manufactures ultraviolet product solutions for multiple applications.
Company Profile
In 2013, UVP was acquired by Analytik Jena AG (now Analytik Jena GmbH) which is based in Jena, Germany. The UVP Company name was changed to Analytik Jena US LLC, and operates as part of Analytik Jena's Life Science Business Unit.
BioImaging Systems
Analytik Jena is a global leader in life science products, supplying BioImaging Systems for academic, pharmaceutical and biotechnology applications. Analytik Jena continues to create innovative products and specialize in fluorescence and luminescence-based imaging applications for proteomics, genomics and plant imaging.
Analytik Jena US develops solutions for fluorescence in vivo imaging in cancer metastasis and tumor research studies. Our technology enables researchers to detect fluorescent markers from the macro to micro level - whole animal to individual cells. Analytik Jena US's team provides extensive technical and scientific support for our customer's research applications.
Ultraviolet Products
Ultraviolet Products includes UV lamps, UV transilluminators, UV cabinets, UV crosslinkers and UV intensity meters. Analytik Jena US, formerly UVP, designs and manufactures ultraviolet product solutions for applications including criminology, electrophoresis, thin-layer chromatography, sterilization, sanitation, toxicology, inspection, non-destructive testing and UV curing.
Laboratory Products
Laboratory Products is a direct outgrowth of Analytik Jena US's leading position in the design, development and manufacture of equipment for the scientific marketplace. Closely related technology and applications are being created and produced in the areas of electrophoresis, blotting, hybridization and proteomics.
Light Source Designs
The Light Source designs custom ultraviolet light sources to specific requirements. The group manufactures low-pressure, mercury, zinc and rare gas, ultraviolet Pen-Ray Lamps for analytical and industrial applications.
Analytik Jena US's manufacturing facility is located in Upland, California. With sales, marketing, R&D and manufacturing personnel of over 100 employees, Analytik Jena US provides comprehensive service and support to customers and dealers worldwide.
Analytik Jena US LLC (Formerly UVP LLC)
2066 W. 11th Street
Upland, CA 91786
Phone: (800) 452-6788 toll free in US/Canada or (909) 946-3197
Fax: (909) 946-3597
E-mail to: support@us.analytik-jena.com
Sales and General Inquiries:
info@us.analytik-jena.com
Calibrations Department:
calibration@us.analytik-jena.com
Imaging Systems Support:
support@us.analytik-jena.com
(for imaging systems, software and cameras)
UV/Laboratory Product Support:
support@us.analytik-jena.com
(for lamps, PCR, Pen-Ray, hybridization ovens, transilluminations, crosslinkers, etc.)
What we stand for
Our vision
We are part of a successful family company. When it comes to lab analysis, customers around the world place their confidence in our products, solutions, and services to improve their products as well as the quality of life and the environment in the long term.
Our mission
With our state-of-the-art analysis, we support our customers in both industry and research to improve their products and to achieve scientific excellence.